It's time to turn good intentions into action and impact. Our multi-part programs align with the second pillar of our philosophy, GROW.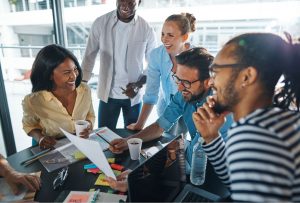 The truth:
Overnight results are a myth when it comes to creating organizations that are genuinely inclusive, equitable, diverse, and accessible.
Let's be honest. One-time trainings are unlikely to change an organization's trajectory as it relates to DEI. For lasting change, we believe growth is required, and this isn't always easy.

Are you looking to:
Become an organization that includes staff and customers with various racial and gender identities, sexual orientations, religious beliefs, abilities, and more.
Build connections with communities you currently don't attract.
Move beyond saying you're committed to DEI and take action on your good intentions.
Our multi-part programs provide comprehensive support that is grounded in the Project 2043 Institute's core curriculum. Our programs include:
Strategic Goal Setting
Industry-Specific Insights
Participant Pre-Work
Interactive Virtual, In-Person, or Hybrid Program Delivery
The Project 2043 Institute's Core Curriculum
Expert Facilitation
Ongoing Post-Program Support
.
"You don't hit a nail once and expect it to go all the way through the wood. You have to keep hammering. It's the same with DEI. It takes consistent action to achieve your goals."
Joseph Williams, Jr.