The Project 2043 Institute hosts and participates in ongoing events regarding Diversity, Equity, Inclusion, and Accessibility. We invite you to join us.
September 20, 2023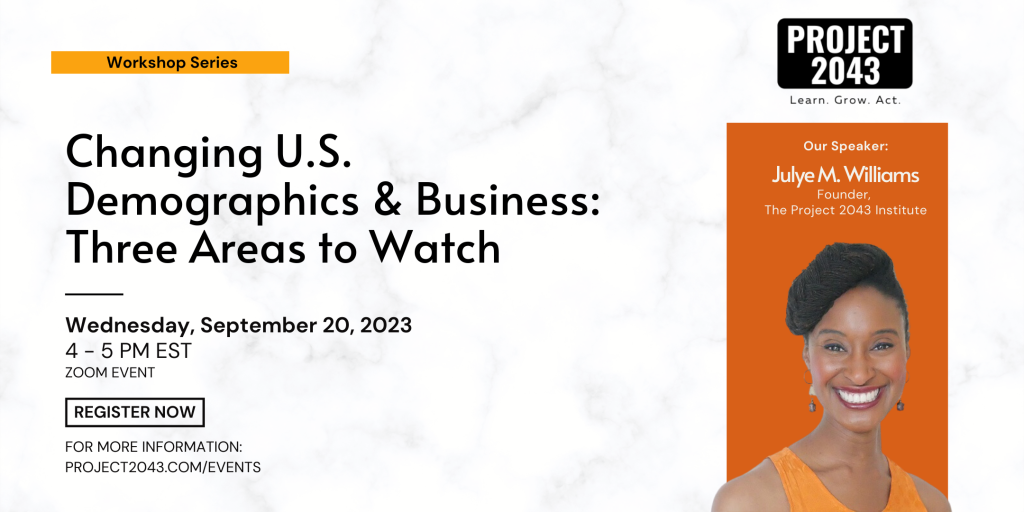 The U.S. is home to 335 million people, and our population will soon reach a historic milestone. In just 20 years, the U.S. Census Bureau projects that no racial group will make up the majority of the U.S. population. Is your organization taking effective steps to be more inclusive, equitable, diverse, and accessible?
If you are an…
HR Director
DEI Committee Member
Nonprofit or Association Executive
And you're working to….
Advance your 2024 strategic initiatives for diversity, equity, inclusion, and accessibility (DEIA)
Cultivate a company culture and implement business systems that are grounded in DEIA
Ensure your programs, products, or services are designed with a lens for DEIA
This session is for you.
U.S. Demographics are changing. Quickly. And racial identity is not the only demographic change we're facing. From age to gender identity, geography, and more, our nation is shifting. Maintaining the status quo is not on the path to long-term relevance, deeper impact, and greater success.
So, what does this mean for businesses – especially those who have yet to fully embrace diversity, equity, and inclusion?
In this session, we'll discuss three areas to watch and share ideas for what you and your team can do to create more diverse, equitable, and inclusive workplaces.
We'll discuss:
The demographic changes that are happening – where and why
The implications of a changing U.S. population on three areas of business
The status quo and the risks of maintaining it
How to promote DEIA in your team and organization
Join us at 4 pm EST/1 pm PST on Wednesday, September 20th.
Click Here to Reserve Your Spot.
---
September 29, 2023
Mid-Atlantic Facilitator's Network | 12-1:30 pm EST
Leverage Learner Variability to Optimize Engagement & Outcomes in Your Workshops
Are you optimizing your engagement and outcomes in your workshops? Adults bring significant insights, experiences, and connections from prior learning to new learning opportunities. The Learner Variability Navigator (LVN) is designed to help you leverage the different factors that can impact adult learners and provide research-based strategies to support them. Join us to learn how two veteran educators use this free tool to design creative and engaging learning experiences for adults. We will show you how to use the LVN, reflect on your own learner variability, discuss a case study, and then provide an opportunity for you to try it yourself.
This 90-minute online workshop will be presented by:
Jessica Jackson, director of professional learning for the Learner Variability Project at Digital Promise where she designs professional learning for educators that helps them address the needs of the whole learner through research-based practices.
Julye M. Williams, founder of The Project 2043 Institute, a U.S.-based company whose mission is to educate and prepare organizations for an inclusive, equitable, and diverse multiracial society.
Note: This workshop is free for members of MAFN. Non-members have a $35 registration fee. Register Here.