The U.S. is on the brink of something beautiful, and on the verge of something disastrous. Our population now stands at 334 million, and a historic demographic shift is happening around the year 2043. The U.S. is the world's largest multi-racial and multi-ethnic country. Workplaces that welcome people with different identities are key to our collective success. Creating them requires a vision and commitment to authentic inclusion.
As I write this, I'm preparing to give a talk on "Diversity, Equity, Inclusion, and Accessibility (DEIA) 101." These days there is great debate on the need for DEIA. To understand why DEIA is important, we must understand how our collective history created the need for it.

A Look Back
Can we be honest? If we look back, we know that inclusion was not the original plan for this nation. Before writing the constitution in 1787, the thirteen colonies established a social hierarchy. Or, as Pulitzer Price award-winning author, Isabel Wilkerson writes, a caste.
Indigenous tribes, long the caretakers of this land, were the enemy of the English. They were hunted and their lands were stolen. Enslaved Africans provided the labor that established the US as a global superpower. They were tortured, terrorized, and seen as less than human by their European enslavers. Historical accounts often take the perspective of the Europeans – celebrating their conquests. A growing number of history books share the perspective of the Indigenous, African, and other communities who lived at the same time. These communities experienced a different – and often undocumented – reality.
Our founding documents tout that "all men are created equal." The reality is that one's racial identity, gender, religion, and sexual orientation have long influenced a person's access to freedom and opportunity. Discriminatory laws across local, state, and federal governments worked to solidify ideas about who was deserving, qualified, and safe.
This has done a number on our collective psyche.
The Face the U.S. is Changing
While an inclusive society was not the goal of our nation's founders, we must create one. Our history has created the need for diversity, equity, inclusion, and accessibility.
What's more, the U.S. is changing. We are becoming a nation that is more racially diverse than ever before. As recent as 1950, 89.6% of the U.S. population was White (87.5% were non-Hispanic White). Yet, in 20 years, non-Hispanic White Americans will represent less than half of our nation's population. The majority of people will be Black, Indigenous, and People of Color (BIPOC).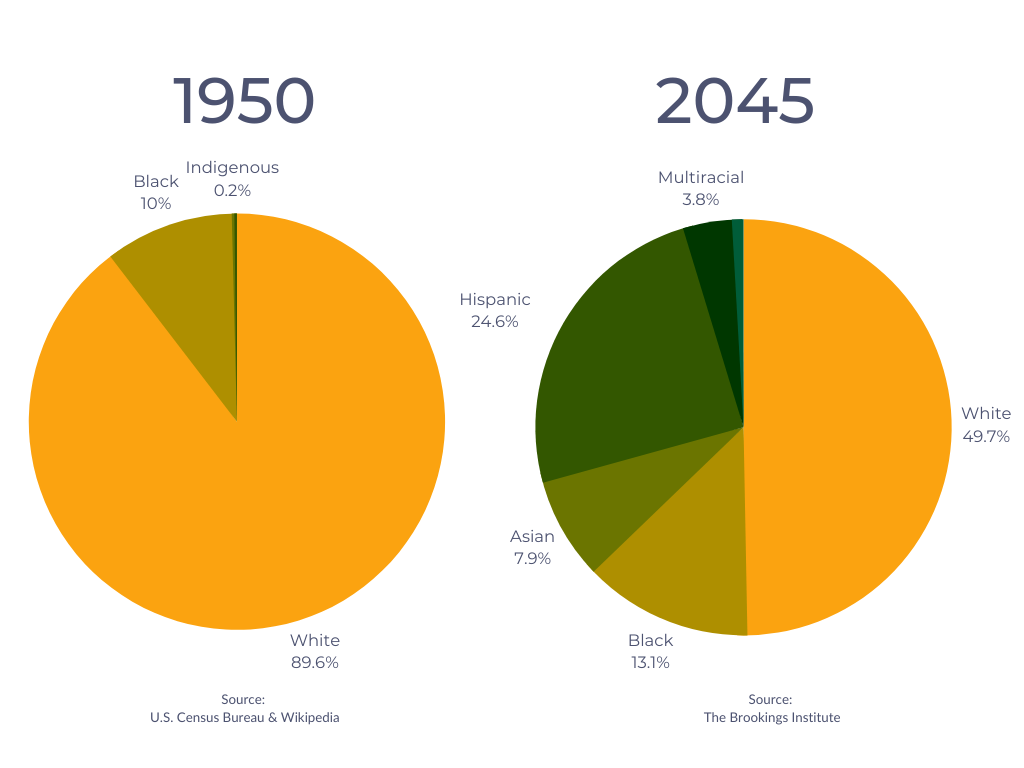 This will be our new reality moving forward.
The story here is not only that our nation is approaching a historic demographic shift. This is significant. The deeper question is how will we create a society that is truly inclusive…for the long term? This is where diversity, equity, inclusion, and accessibility have a major role in our organizations.
Take Action
There is a lot to do. Given our history, embedded practices, and more, most of America's institutions lack racial, gender, and other forms of diversity. From corporate and nonprofit boards to CEOs and elected officials – we need DEIA. The benefits are often cited, yet action to achieve them is slow.
The coming change in our nation's demographics is undeniable. To create a more inclusive organization, here are a few actions you can take:
Decide that you want your organization/team to be diverse, equitable, inclusive, and accessible. Since the 2020 murder of George Floyd and the global protests that followed, many organizations have made public statements about valuing DEIA. Far fewer have taken any action on their words. In fact, data show that companies are removing many DEI professionals from their roles. For many, these actions reveal a company's true lack of commitment to DEIA. If DEIA is truly an organizational value, then act on it. Allocate the time, resources, staff education, and more to ensure DEIA is infused across your organization.
Look at your company's systems and culture. Our systems include the processes, policies, and procedures we use to run our organizations. It is how we get business done. Sometimes, we inherit the systems we currently manage. Other times, we're creating them on our own. How often do you consider how your systems impact people with different characteristics from you? (For example, a different race or gender identity? Or a different physical or cognitive ability?) Taking time to examine your systems can help identify any issues that may impact your goals for DEIA.
Go for the culture add. Often, we hear people discuss "culture fit." This replicates what currently exists. If someone fits within the culture, they are bringing more of the same. What if you invited people to add to your culture? To make it more expansive, more inclusive, and more dynamic? Hire, partner with, and collaborate with people with diverse identities and lived experiences. The goal should never be to "use" or tokenize anyone. But, to genuinely invite people to be a part of your organization. Be willing to hear and take action on different views.
The Brink of Beautiful
The brink of beautiful is where we acknowledge our collective history, and act to create more diverse, inclusive, equitable, and accessible organizations. Doing this elevates our organizations and deepens our impact. It makes our work more relevant to millions of people. And, it creates work environments where people are genuinely included and can thrive.
The verge of disaster is where we entrench the status quo. We further center the lives and experiences of the historical majority. It's where we collectively lose.
The good news is that it's our choice.
If you are looking to build an organizational culture and systems that are diverse, equitable, inclusive, and accessible, let us know. We'd love to see how we could support you.